MICHAEL B. NELSON has distinguished himself as the leader, composer, arranger, and trombonist for the internationally acclaimed, 5-piece "a cappella" jazz horn group, the HORNHEADS.
From 1991-2001, Nelson and the Hornheads recorded and toured worldwide with Prince, performing for over 2 million concert goers. Nelson recorded and arranged horns for 20 CDs with Prince and associated Paisley Park artists and co-wrote a song with Prince on his Grammy-nominated Gold Experience CD. Nelson continued arranging horns and producing horn and orchestral sessions for Prince from 2011-2016.
In 1996 Nelson received a McKnight Composers Fellowship through the American Composers Forum.
From 2012-2017, Nelson joined Doc Severinsen as his lead trombonist, touring with his big band and performing with the Minnesota Orchestra, Buffalo Philharmonic, Utah Symphony, Detroit Symphony, and the Cincinnati Pops on his symphony shows.
As a top call studio musician, he has appeared on over 200 CDs, with producer, composer, arranger, and performer credits on 4 Hornheads solo releases (EveryTHING bLOWs!, Fat Lip, 5 Heads Are Better Than 1, and Hornheads) and 10 Compass Records CDs for the Target retail chain. Nelson has performed and/or recorded with Michael Jackson, Stevie Wonder, Chaka Khan, Doc Severinsen, Lenny Kravitz, The Jonas Brothers, Sammy Davis Jr., Mandy Moore, Jimmy Jam, Johnny Mathis, Larry Graham, Ben Sidran, Maceo Parker, and many others. He has also worked on many commercial projects for companies such as Target, BMW, Holiday Inn, Macys, ABC, Minnesota Twins, Best Buy, General Mills, Hormel, and Long John Silver's.
MICHAEL B. NELSON
TROMBONIST | COMPOSER | ARRANGER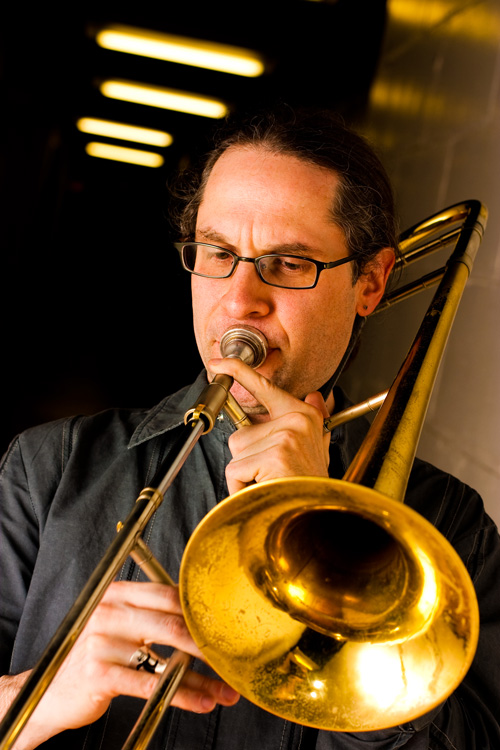 Bach Stradivarius 16m trombone, Gardinelli 4M mouthpiece
1928 Conn double bell euphonium, Gardinelli 4D mouthpiece
"Michael Nelson's ability to communicate with any age student ranks with our most celebrated clinicians invited to our school. His ears challenged our most advanced students and his intuition knew what to say to each individual according to their ability. Michael's performance at our jazz festival had my students spellbound and racing to him with their questions because of his accessible manner. It's no wonder the "Hornheads" posses the musicianship, great writing and public appeal under Michael's direction. He's got it all."
"The kids are still talking about the concert almost a month later. Michael Nelson was great to work with and an absolutely killer performer. Parents really commented on his ability to interact with the students musically. Great Show!!"
"The Hornhead member clinics we have hosted offered students the highest level of blending artistry and education. Our clinic time with Michael Nelson helped students explore new ideas in how to express their musical thoughts. We would definitely invite members of the Hornheads back to work with our students!"
CONTACT
Hornheads' acclaimed trombonist-arranger Michael B. Nelson about writing world class funk, pop, jazz, or latin horn arrangements for your project.